Car Hire for the Emirates

Emirates Rental Cars Offering online rental cars throughout the United Arab Emirates. Choose the size of vehicle that suits your needs, to enable you to discover Abu Dhabi, Ajman, Dubai, Fujairah, Ras al-Khaimah, Sharjah, and Umm al-Quwain.

Be careful driving in the UAE, for example the inner lane is the one reserved for speeding luxury cars and some speed bumps are unmarked. Digital cameras register speeding and other traffic violations.

We have many locations throughout the Emirates, simply type in the word "Dubai" to view all those that are available, such as the Al Maktoum International Airport or "Abu Dhabi" to book the Abu Dhabi Airport or Abu Dhabi Etihad Plaza.

It is recommended that you use a desktop or tablet rather than a mobile device when searching for the nearest resort , as a map will be displayed at STEP2 enabling you to see which depot is the closet to where you are staying. Hotel Delivery is also available in certain locations.

Driving Distances between (in km) :-

Dubai (Dubayy) - Abu Dhabi (Abu Zaby) 126.96

Sharjah (Ash Shariqah) - Al `Ayn (Abu Zaby) 135.39

Harf (Al Fujayrah) - Al Qawz (Dubayy) 125.85

Reservations can only be made online. A credit card is required.
Recent Rental Rates
Mazda 6 or similar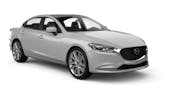 ✔
Air conditioning
✔
Automatic Transmission
9 days in July,
Dubai - Intl Airport - Terminal 3, United Arab Emirates
Ford Figo or similar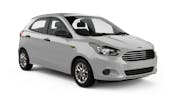 ✔
Air conditioning
✔
Automatic Transmission
6 days in February,
Dubai - Intl Airport, United Arab Emirates
Kia Picanto or similar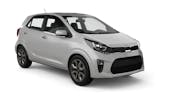 ✔
Air conditioning
✔
Automatic Transmission
✔
Bluetooth
15 days in February,
Abu Dhabi - International Airport, United Arab Emirates
Copyright 2023 carhire.lu. All rights reserved